Constantine Zlatev is a San Francisco based sculptor and designer who received his education at the California College of the Arts. He utilizes disabled armaments, industrial materials & glass to make aesthetically refined & conceptually-driven sculptures and installations. He is a recipient of the prestigious international Arte Laguna Prize for Sculpture & Installation in Venice, Italy and he exhibits regularly in group & solo shows across the U.S., as well as Europe. In 2015 he was Artist-in-Residence at the Abate Zanetti School of Glass in Murano, Italy and Artist-in-Residence at TechShop-San Francisco in Fall 2016.
​​​​​​​
"My work is the outcome of an idea propelled forward by an irresistible need for its realization. The knowledge, skills, interests and experiences that I have accumulated through my life & travels strongly inform my work, consciously and subconsciously. This inner aesthetic universe is my ultimate creative guide. I am particularly inspired by projects grounded in ideas of social, political, cultural or historical significance - we live in a time where conceptual art should aspire to no less."
- Constantine Zlatev
STUDIO & TEAM
Made In Constantine is the art and design studio of Constantine Zlatev. The phrase is an allusion to the familiar country of origin labels and serves as the 'artist signature' on all works exclusively produced by the studio.
Kostadin Ilov is a computer engineer and a systems administrator at UC Berkeley. He earned his Master's degree in Computer Engineering at the Technical University of Sofia. He enjoys working with artists and tackles the electronic & programming challenges of the robotic installations.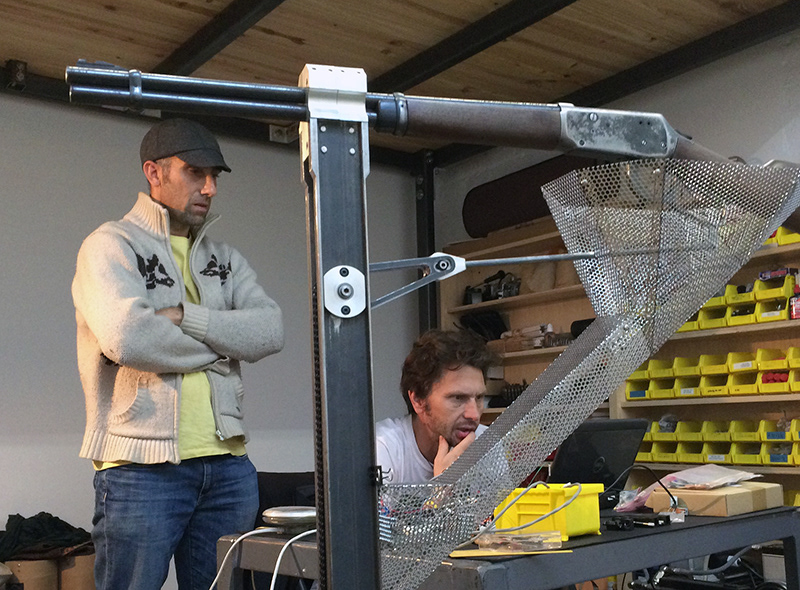 Velina Ruseva is a professional pianist and a music teacher and wrote the musical notes for the mechano-robotic flute installations. She received her Bachelor's degree from the Conservatory of Music in Plovdiv, Bulgaria and earned her Master's degree from Veliko Turnovo University. Her love of music and geeky sense of adventure has led her beyond the bounds of the traditional and she greatly enjoys writing music for such experimental instruments. 
PRESS
The Last Gun featured in Neural Magazine
The Candy Machine featured on
Designboom
The Last Gun featured on Designboom
Interview with CSI Multimedia (Italian & English)
Article on Experimenta Magazine (Spanish)
Article on CNET Magazine
Feature on CNET: Tomorrow Daily Podcast (5:49 - 7:50)
Feature on CNET: Crave Podcast (0:58 -1:52)
Article on Trendhunter
Article on Us vs Th3m
(English)              
AWARDS, PRIZES
2016        Fall 2016 Artist-in-Residence, TechShop-San Francisco
2015        Abate Zanetti Glass School residency, Murano, Italy
                Arte Laguna Special Prize
2013        
Arte Laguna Art Prize
, Venice, Italy
                Overall winner - Sculpture & Installation Section
2012        Politicizing Aesthetics, John A. Day Gallery, University of South Dakota
                Juror's Prize   [Juror: Monica Herman (Mixed Greens, NY)]
EDUCATION
California College of the Arts